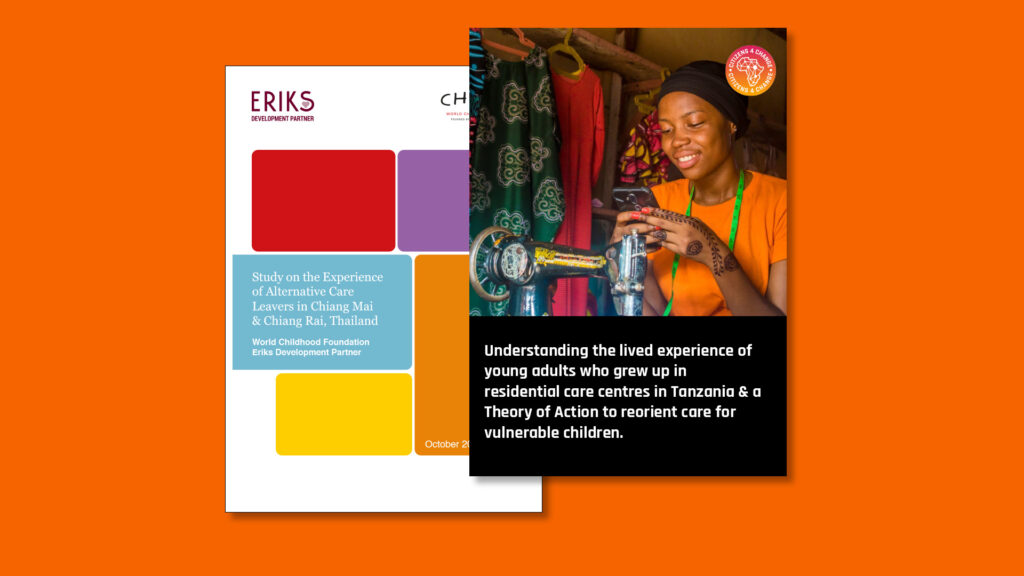 Report launch: Understanding the lived experiences of care leavers in Thailand and Tanzania
Despite a global shift away from residential care in institutions/orphanages, there is limited understanding about how residential care is perceived by children and young people in low- and middle-income countries and how this form of care affects outcomes for them as they enter young adulthood. But to move away from institutions require a deeper understanding of motivations, family relations, difficult choices and how children with care experience understand and interpret their own stories.
To contribute to an improved understanding of the lived experiences of care leavers, two new reports focused on Thailand and Tanzania were released on October 10. The reports were developed with the support from the Swedish Postcode lottery and were commissioned by the World Childhood Foundation and Eriks development partner to provide additional insights as both Thailand and Tanzania seeks to move away from institutional care. The reports are based on interviews with care leavers in Thailand and Tanzania and was developed to explore how residential care affects children's wellbeing and experience of violence in the long term after leaving care.
The studies confirms that residential care is extensively used in both Thailand and Tanzania, not just for orphans or children in crisis but also by families seeking educational and social advantages. Residential care can, with this perspective be seen as parts of a disordered care and protection landscape, reflecting a fragile circle of care around vulnerable children.
The reports reveal strong support for the primary role of the family in child-rearing, and acknowledges the potential harms of residential care. The vast majority of interviewed children and other stakeholders consider preventing family separation crucial. There is very strong support for efforts to support and strengthen families to avoid separation. Respondents also highlight the severe challenges and negative consequences of residential care, affecting relationships, cultural identity, and fundamental rights. These challenges include separation from biological families, cultural isolation, and, in some cases, neglect and violence. Upon leaving care, young people are insufficiently re-integrated into their families and communities. Consequently, post-care life is often characterized by a lingering sense of unarticulated loss.
But despite this understanding of the negative effects of care in residential settings, a lack of alternative support options for vulnerable children results in these institutions being perceived as an escape route from challenging home environments. Despite the value put on family, much care of vulnerable children is outsourced to institutional settings. Alternative care options that shield children from the adverse effects of poverty or family violence, while concurrently preserving familial ties, are limited. Responses from care leavers were multifaceted and also included perceived opportunities resulting from their placement into residential care. While most care leavers acknowledged the material benefits and opportunities from being in care, they also consistently expressed the challenges and emotional distress caused by separation from their families and placement in residential care.
A key finding is that many of the material benefits that care leavers explicitly mention, would be possible to reach without separating them from their families.
The report launch can be viewed via this link and the reports can be downloaded below. Reach out to Joel Borgstrom at the World Childhood Foundation or Daniel Gleisner at Eriks development partner if you have questions about the reports:
Daniel.gleisner@eriksdevelopment.org
TANZANIA study
McAlpine et al (2023) Care experience
THAILAND study